Hey guys, I didn't play much today (tuttut) spent quite a bit of time on something else, but I did manage to play 121 flops so about 400 hands or so, and won 2 stacks! So the move up to 10nl is going ok! 
I started with the 50 euros I won from the #Unibetbubble competition and now I have it to 72 euros in the cash tickets (plus 2 euros that converted from one of the tickets into cash, which i forgot to include in my graphic below

) Tomorrow I will definately be getting more volume in, and hopefully the waters will be flowing nicely downstream over the weekend for me to catch a few fish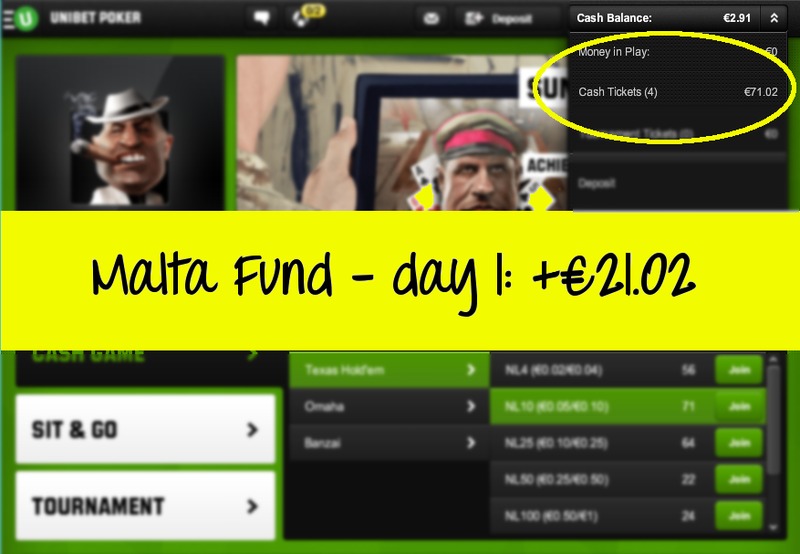 I also listened to one of Jared Tendler's podcasts today which I do when I am trying to focus on my game sometimes, and I listened to the Daniel Negreanu edition - very good and Daniel was speaking about the importance of self-belief. The point he made was quite logical, that you need to believe in what is you want to achieve and when you believe it that will motivate you and direct you to taking actions that will help you accomplish it. So that's why he believes he will win every MTT he enters. 
He also talked about the power of journaling which I thought was pretty cool. Here's the podcast if you're interested: - 
http://jaredtendlerpoker.com/blog/positive-poker-with-daniel-negreanu/
Positive Poker with Daniel Negreanu - Jared TendlerWith nearly $30 million in winnings, learn how Daniel Negreanu uses a positive approach to poker psychology.jaredtendlerpoker.com

Next update on day 7
Have a good weekend!
#maltafund Day1