What is RankingHero.com ?
RankingHero is a ranking and social networking site for the poker community. Pro players can use RankingHero to manage their e-reputation and keep in touch with their fan base. Event organizers can make their tournaments known to a huge and qualified audience. And for the poker fans, it is the place to be for the latest news and results of their favourite players. Our goal is to provide the largest and most accurate live poker data coupled with intuitive and user-friendly ways to link players, pros and fans in the poker world.
Our company: the story so far
RankingHero was born from the union of pro poker players, business veterans and IT experts.
Many brilliant pro players started projects in poker and did not succeed because they lacked marketing and technical skills.
Many brilliant IT engineers started projects in poker and did not succeed because they lacked poker knowledge, a network of contacts in gaming, and business experience.
RKH has all the keys to succeed and meet the needs of the poker community!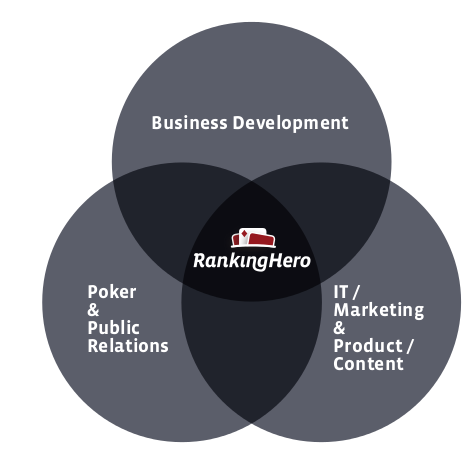 Because he wanted to be sure to succeed where others did not, in 2011, pro poker player Pierre Canali decided to partner with Adrien Bacchi and his IT team to jointly develop the best possible project.
After months of market and technological analysis, it appeared that the ideal project would be a platform providing the most accurate poker tournament database combined with an upmarket social network.
That's how RankingHero.com, alias RKH, was born. In 2012, the successful and respected businessman Bruno Vanryb joined the team, accelerating the project's development by bringing in his wide knowledge, experience and contacts.
In 2013, things picked up speed when more big names came into play: Nicolas Levi, Bruno Fitoussi, Lucille Cailly, Guillaume de La Gorce, Renaud Desferet... and others joined forces to create what you can now see: RankingHero.com!
Ranking heroes!
The Team
Our values
Treat all people with respect and dignity, value differences.
Place the interests of users first, our success depends on their satisfaction.
Pursue an unrelenting quest for quality. Use speed and simplicity to achieve goals.
Commit to teamwork. Seek out and use the ideas and suggestions of the poker community.
Conduct ourselves with the highest level of integrity and business ethics.
Reach for the highest standards of performance. Show a passion for winning.
Jobs: become our Hero!
We are constantly looking for new talents, specially in the IT field. Computer engineers, don't be shy, contact us anytime, there may be an open position for you!
Press reviews
Discover all the reviews related to RankingHero.com in the press and on the internet.
Read now!